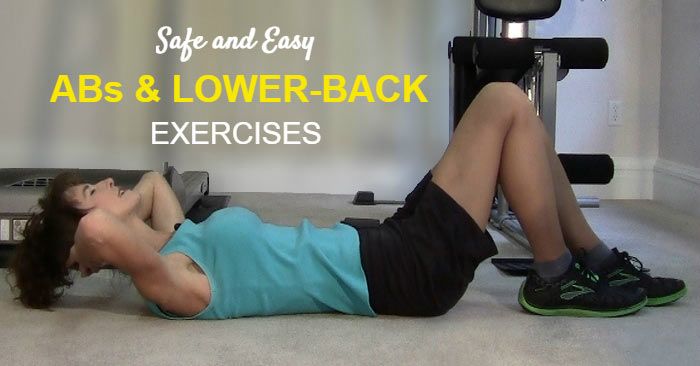 Would you like to build strong abs and lower-back muscles by doing easy exercises in the comfort of your home! I can help.
Exercise with me in the video below and enjoy achieving your goal. I have over 30 years experience as an AFAA certified instructor teaching low-impact aerobics and muscle strength training in local professional gyms. I recorded this video for all people who want to enjoy better health by exercising at home. *
These exercises are safe for people of all ages, including seniors.* Also, people who have chronic conditions, such as MS will also benefit from doing these exercises. **  
Quick Home Exercises Video for Abs and Lower Back Strengthening
The video below includes 6-min of abs and 1-min of low-back exercises. Understanding why you are doing certain exercises helps you to start and continue with a regular exercise program.
Abdominal Exercises Build the Abs
Abdominal exercises are useful for strengthening your body's core muscles. They also build your abs.
Abs have many essential functions. Some of these functions are breathing, coughing, and sneezing. They also maintain posture and improve speech.  Also, having strong abs is useful for improving performance with individual sports.
Abs are part of your body's core support.
Strong Abs Support Your Lower Back
By strengthening your abs, you are building support for your lower back. Many people suffer from chronic back pain due to weak abdominal muscles. Even with a minimal amount of time and effort, you can build stronger abdominal muscles.
This video includes 6- min of abs exercises. When done even 2 to 3 times a week you will build stronger abs and help reduce back pain.
Strong Back Muscles Relieves Back Pain
You will strengthen your back, stomach, and leg muscles by doing exercises for the lower back. Sometimes when your back feels tired, you may feel like resting. However, moving your body is good for your back. Stronger muscles in these areas help support your spine and relieves back pain.*
Your back muscles will get stronger, even with only 1-min of back exercises, when you do them on a regular basis.
Quick Home Exercises Video for Abs and Lower Back Strengthening
*Remember to talk to your doctor before starting any new exercise program.***
**After experiencing unusual symptoms for 15 years, doctors diagnosed me with MS in 2009. I'm confident that doing these exercises on a regular basis is how I've stayed physically strong and avoided injuries.
***Before using Debbie Jorde's exercise videos you agree to talk with your doctor and agree to release Debbie Jorde of all liability should you get injured while using her videos.
---
Additional Classes with Debbie for Home Exercise Use
For detailed information about low-impact aerobics and the benefits of cardiovascular exercises see Best Introductory Low-Impact Aerobics Exercise Video You Can Do at Home.  As the title states, the exercises in this video introduce you to basic, easier, aerobic moves that use slow-paced music.
---
10-min of stretching major muscle groups for added flexibility:
Best Stretching Exercise Video You Can Do at Home Quickly
---
5-min upper body weights and 3-min stretching:
Quick Home Exercises Video for Toning and Stretching
---
1-hr low-impact aerobics, introduction, slower music:
Best Introductory Low-Impact Aerobics Exercise Video You Can Do at Home 
---
1-hr low-impact aerobics, medium level, faster music:
Best Low-Impact Aerobics Exercise Video Medium Level for Safe Home Use
---
Enjoy an additional low impact cardio class which includes light hand-weights of under 5 lbs. Weights are held in your hands during a small portion of the class while performing the aerobic moves.
14-min cardio with light hand weights:
 Best Low-Impact Aerobics with Arm Toning Exercise Video for Safe Home Use
---
Recommended reading; 
Web MD: 10 Tips for a Healthy Back