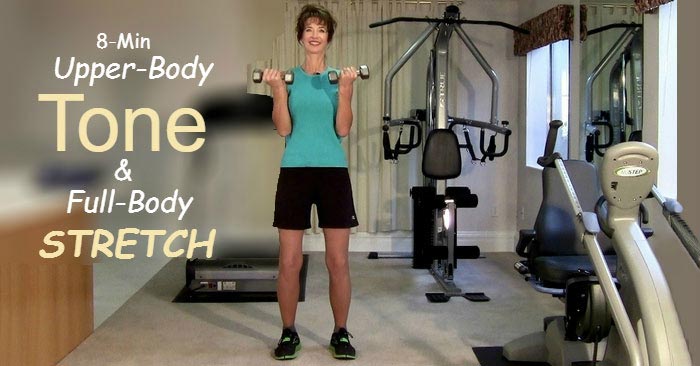 Did you know you can tone your arms in as little as five minutes, three times a week? You can!
Upper body toning has health benefits beyond just looking good in tanks and tees. Building strength in your arms helps with everyday activities such as carrying groceries, lifting children, and even driving.
Gaining muscle tone and strength doesn't have to be hard or take a lot of time. Persistence and regularity are the keys. A short routine 3 to 5 days a week will bring improved results.
I have over 30 years experience as an AFAA certified instructor teaching low-impact aerobics and muscle strength training in local professional gyms. I recorded this video for all people who want to enjoy better health by exercising at home. *
These exercises are safe for people of all ages, including seniors.* Also, people who have chronic conditions such as MS will also benefit from doing these exercises.**  
Quick Home Exercises Video for Toning and Stretching
In the past, I was doing a minimum of 1-hour of cardio exercise seven days a week. Aerobics and hiking were my only forms of exercises.  I didn't use any weights. Doing cardio was how I maintained my weight, muscle tone, and heart strength.
After a while, doing cardio exercise 7 days a week became too difficult to maintain. I didn't have enough time or energy between work and single parenting of two children with disabilities. However, I wanted to continue to maintain my weight and eat the same amount of calories. Everyone's dream, right?
In my search for an exercise routine that would help me achieve my goals, I added weights to my routine. I had learned that adding weight training to an exercise routine builds body muscle mass, which burns more calories, I decided to try it. I was amazed! It worked!
Muscle Tissue Burns More Calories
When you exercise, you use muscle. Exercising helps build muscle mass, and muscle tissue burns more calories — even when you're at rest — than body fat. According to Wharton, "10 pounds of muscle would burn 50 calories in a day spent at rest, while 10 pounds of fat would burn 20 calories." Web MD
Did you know that if you eat only 10 calories a day above baseline for a year, you will gain one pound? So burning 50 calories, versus burning only 20 calories is a big deal.
"The most efficient way to increase metabolism and burn more calories is by doing aerobic exercise and strength training. Both are important," Megan A. McCrory, Ph.D., a researcher with the School of Nutrition and Exercise Science at Bastyr University, says.
Strength Training Offsets A Slow Metabolism
Strength training is always an important element to include in your exercise routine. Also, building strength becomes important as we get older, because our metabolism slows down.
One way to offset this is to add strength training to your workout at least a couple of times a week. The largest muscles are in the thighs, abdomen, chest, and arms, making them the biggest calorie burners.
8-min Video for Toning and Stretching for Home Use
As I said above, I have over 30 years experience as an AFAA certified instructor teaching low-impact aerobics, and muscle strength training in local professional gyms. I recorded this video for people who want to tone and strengthen their arms and stretch.* The exercises in this video are quick and easy to do.
The strength training in the video below focuses on toning and strengthening the arms. It also includes 3-minutes of stretching.
Video: 5 Min Weights Upper Body Toning and 3 Min Stretching
*Remember to talk to your doctor before starting any new exercise program.***
**After experiencing unusual symptoms for 15 years, my doctors diagnosed me with MS in 2009. I'm confident that doing these exercises on a regular basis is how I've stayed physically active and avoided injuries.
***Before using Debbie Jorde's exercise videos you agree to talk with your doctor and you also agree to release Debbie Jorde of all liability should you get injured while using her videos.
---
Additional Classes with Debbie for Home Exercise Use
For detailed information about low-impact aerobics and the benefits of cardiovascular exercises, see Best Introductory Low-Impact Aerobics Exercise Video You Can Do at Home.  As the title states, the exercises in this video introduce you to basic, easy aerobic moves that use slow-paced music.
---
Enjoy an additional low impact cardio class which includes light hand-weights. 3 to 5 lb weights held in your hands during a small portion of the class while performing the aerobic moves.
14-min cardio with light hand weights:
 Best Low-Impact Aerobics with Arm Toning Exercise Video for Safe Home Use
---
6-min abs and 1-min lower back:
Quick Home Exercises Video for Abs and Lower Back Strengthening
---
1-hr low-impact aerobics, medium level, faster music:
Best Low-Impact Aerobics Exercise Video Medium Level for Safe Home Use
---
10-min stretching for major muscle groups for increased flexibility:
Best Stretching Exercise Video You Can Do at Home Quickly
---
Recommended reading:
Web MD: The Basics: Build Muscle for Better Health