Do You Feel Alone and Discouraged by Your Challenges?
I felt this way too. Realizing other people also feel this way, inspired me to write my story, Eight Fingers and Eight Toes: Accepting Life's Challenges, which includes lessons I learned while accepting and overcoming the challenges of raising two children born with multiple disabilities, abandonment, poverty, depression, and bulimia.
Walk with me on a path that focuses on finding strengths, using natural talents, and believing you can overcome challenges. Gain new perspectives, insights, and lessons as you feel less alone and find the renewed courage to face your challenges with more compassion and empathy for yourself.
Buy The Book Now!
Only $19.95
About Eight Fingers and Eight Toes: Accepting Life's Challenges
Like most expectant mothers, Debbie Jorde was expecting her first perfect baby. She already had what she perceived to be the perfect marriage, as well as what she thought was the perfect life. The delivery date came and her perfect baby wasn't so physically perfect, in fact, she was severely disabled. She wasn't expected to live and the doctors had few answers.
After her second child was born, with the same disabilities, what Debbie thought was a perfect marriage dissolved. She became a single mother dependent on public aid to help care for her children. The illusion of her perceived perfect life reduced to that of a divorced, single mom raising children with lung disease, autism and a rare disabling disorder called Miller syndrome that affects only 30 other people worldwide.
Debbie found herself forced on an odyssey of self-examination through issues such as divorce, single motherhood, eating disorders, addiction, self-worth, and the definition of beauty. The challenges faced in the process led Debbie to redefine her definition of happiness, success, and perfection. The lessons learned and insights gained transformed her life into one that is full of acceptance, courage, joy, and love.
Eight Fingers and Eight Toes: Accepting Life's Challenges is a story of the power of a mother's love for her children and her journey of self-love. It is a story of struggles and learning to accept and overcome challenges. One takes a front row seat as the author learns answers to questions asked decades ago that result in part from the family being the first ever to have their entire genome sequenced.
This book is a reminder that in spite of the trials that cause us to think life isn't so perfect, with a little courage and a lot of love, all can learn to accept and overcome challenges. The result being a more fulfilling life of happiness and joy.
Book Trailer
Insights You Can Apply to Your Own Life!
Get Started With A Special Offer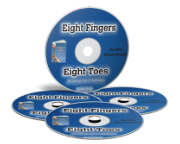 As our Free Thank You Gift to you for visiting our new website and for subscribing to our inspirational newsletter: Accepting and Overcoming Challenges with Debbie Jorde, we'd like to send you the first 3 chapters of the audiobook version of Eight Fingers and Eight Toes.
ABSOLUTELY FREE!
Offer Available For A Limited Period!

Don't Delay! Share the Journey Now!
Join Debbie on a journey of unexpected and often heart-wrenching experiences as she shares how she learned to accept and overcome life's challenges in hopes of inspiring you as you overcome yours.