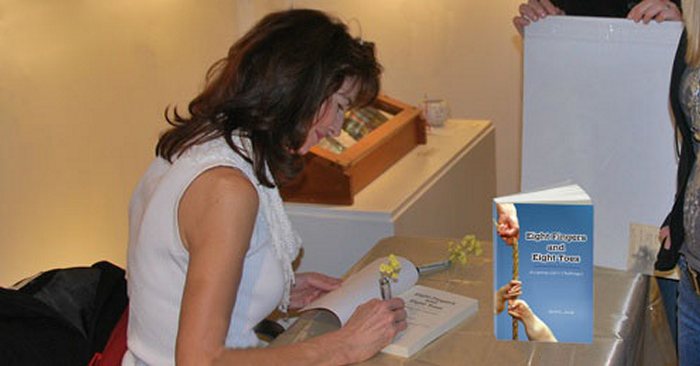 How often has reading a book positively changed your life? Books have impacted my life in significant ways. As a result, I wanted to share my story of overcoming challenges to positively impact other people's lives. I wrote my memoir, Eight Fingers and Eight Toes: Accepting Life's Challenges.
The Salt Lake Tribune newspaper published a book review. The link to the article is included below. Following is an excerpt from the article:
Learn to Overcome Life's Challenges from Inspiring Family's Memoir
Why Write a Memoir about Accepting and Overcoming Challenges?
Have you ever thought about writing a book? Many people want to write a book, but few people can make time in their busy schedules to complete this goal. I wouldn't have thought it was possible for me to do either.
One afternoon around 1988, I realized that I was learning a lot of lessons about accepting and overcoming challenges and gaining personal growth. As a result, I thought, "When I die one day, everything I've learned will die with me, and nobody will benefit."
Having this thought compelled me to write my book. I decided to write no less than fifteen minutes every day. After three years, writing one day at a time, I completed my first draft.
Book Publication Delayed
After writing about accepting and overcoming challenges from raising two children with multiple disabilities as a single mother, poverty, divorce, and an eating disorder, my book was nearly ready for publication. I felt good about how far I had come.
At that time, Logan was going through a lot of emotional challenges and having difficulty accepting his life filled with disabilities. As a result, I stopped working on my book to help Logan create a reason to live.
I helped him gain self-employment as an artist. Over a four year period, Utah Vocational Rehabilitation, a state program for people with disabilities, and a program through the federal Government called a Personal Account for Self Sufficiency (PASS), helped us achieve our goal. Logan became a self-employed artist in his business, Logan Madsen Fine Art.
Publishing Eight Fingers and Eight Toes: Accepting Life's Challenges
In 2008, I was ready to complete and publish my book. I felt passionate about telling my story and because I had thirty years of experiences socializing as a hairstylist, I was a good storyteller. However, because I didn't write professionally at that time, I decided to find a professional writer to help me edit my book.
I hired a talented editor for my book, and also, found out later that my editor had disabilities. As a result, her experiences made her the perfect editor for our story of accepting and overcoming challenges. We edited my book together for a year. Excitedly, I published Eight Fingers and Eight Toes in October 2010.
Book Review in SLTribune
SLTribune reporter, Kristen Stewart, called me and asked for an interview about our story. She wrote a book review in the Salt Lake Tribune newspaper. Below is a link to the article.
SLTribune Article: "Utah mom writes about embracing 'eight fingers and eight toes'" By Kirsten Stewart