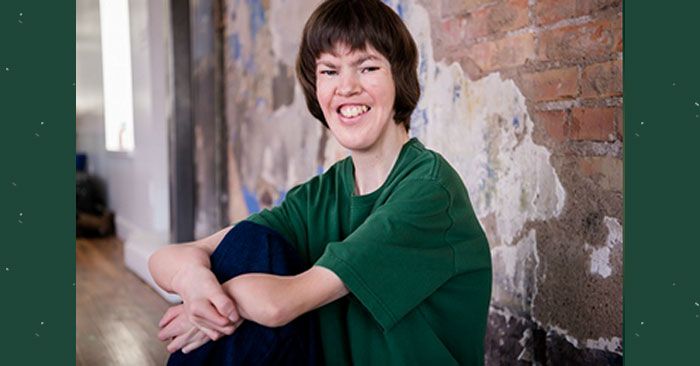 Hello, I'm Heather Madsen. My life is full of surprises, twists, and challenges that help me grow. Sometimes I take them in stride. Other times, I yell, scream, and later I might even laugh. Whatever my reactions, I keep my thoughts on my goal to accept and overcome challenges.
One day, I was at the grocery store. All I was doing was putting celery in a bag. This is a bit of a juggling act. A stalk of celery is bigger than my hands and forearms combined.
After I succeeded, a woman said, "Wow, I didn't know you could do that so well!" I was surprised that she actually watched me and was impressed enough to say something.
On one hand, I was glad I didn't ask for help. I like to think that people watching me feel inspired to overcome challenges. On the other hand, getting help is great too.
Connecting with Others Helps Overcome Challenges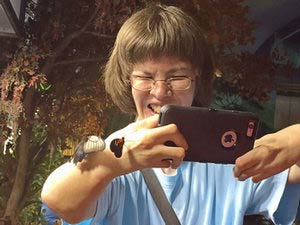 I love writing about the beauty, joy, and unconditional love that encourage me through life's challenges. I write about my relationships with nature, people, and myself.
Some of these pieces are published in my mom's book, Eight Fingers and Eight Toes: Accepting Life's Challenges.
My mission is to help people see their lives a little differently by sharing my adventures in overcoming challenges.
Knowing I have inspired another person makes my challenges a little easier. There is always a light in the darkness.
Walking My Own Path Brings Joy
I love personal growth and exploring how the mind works. This led me to get a B.S. degree in Psychology. After trying a few jobs, I discovered that my multiple disabilities were not a good fit for traditional jobs.
It was clear to me that I needed to follow my own path. As it turns out, psychology and English were the subjects I mastered the most. I was born to be a writer, especially with my love for details.
I love watching water falling from a faucet. The bubbles and swirls make a beautiful dance. I feel soothed, almost hypnotized. Seeing the beauty in these kinds of details helps me feel calm and joy at the same time. The water is even prettier without sound, before I put on my hearing aid in the morning.
If I am coughing from my lung disease, I love tuning into the rhythms of my cat's purring and breathing while he's in my lap. I feel so content, that I let go of my suffering.
Meditation Creates Acceptance and Love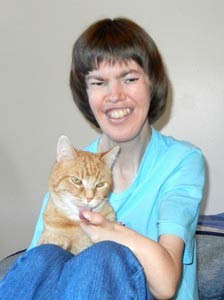 When I connect to details in my environment or read books, this is my way of meditating. I feel beauty, gratitude, joy, acceptance, and love for myself and my life. In that moment, I connect to my higher consciousness and the oneness of life.
I love nature, especially from inside my cozy apartment. My favorite activity is sitting in my rocking chair in the living room, while reading a book with Thomas, my cat, on my lap. I also look out the big window to admire the beautiful sun-lit trees dancing in the wind.
I enjoy being alone a lot because I love reading every day. Autobiographies, memoirs, and spiritual growth books are my favorites. I also have fun socializing with my live-in aide, my brother, and my mom throughout the week.
Challenges Encourage Self Discovery
I look different because I was born with Miller syndrome. It is genetic and affects only 30 people in the world, including my brother, Logan. It affects how bone and muscles are formed in most of my body and causes hearing loss. I was also born with a rare genetic lung disease called primary ciliary dyskinesia. It impairs my lungs' ability to clean themselves, causing lung infections. When I was 27, a specialist diagnosed me with autism.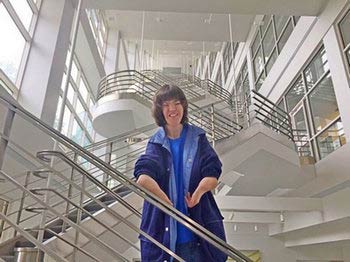 I have overcome many surgeries, disappointments, pain, frustrations, and struggles. These situations are very challenging, but they help me learn more about who I am.
It is not suffering that creates my growth, but the steps I take to replace suffering with my love and gratitude that make me a stronger and more compassionate person. I surrender to my love.
My mom said, "The biggest, brightest smile I ever saw on Heather's face was after a surgery to re-inflate her lung, after it had been being collapsed for nearly 4 days. She said 'I can BREATHE!'"
That was one of the best moments of my life. I was so grateful. Writing about my journey is a way for me to help other people breathe a little easier, too.
I live in beautiful Salt Lake City. My brother lives two floors below me and my mom is just ten minutes away.
Walking my own path brings joy. The beauty of life is all around us through relationships with nature, people, and ourselves. ~Heather Madsen
Heather Madsen Slideshow from Birth to age 38
If you would like to follow my upcoming writings, please subscribe to our website.

Celebrate Heather Madsen's life with us! View her celebration of life!