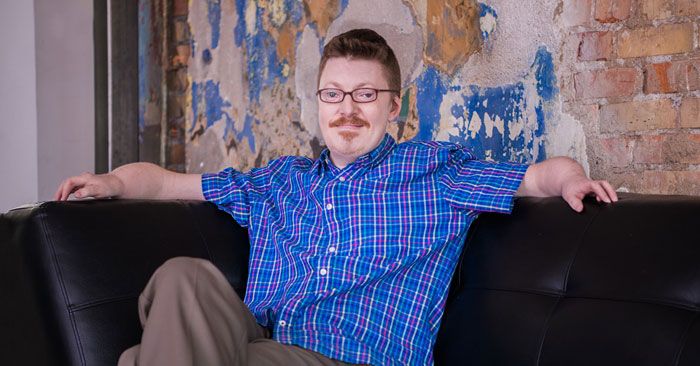 Logan is a 37-year-old self-taught artist. He has an AA degree in graphic design and lives in Salt Lake City, UT. Logan lives to create art! He spends a few hours each day painting in his home art studio to express his voice on canvas.
Documentary about Artist, Logan Madsen Accepting and Overcoming Challenges through Art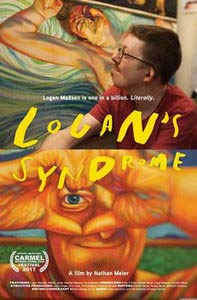 Logan's life story is documented in a film called, Logan's Syndrome, which won Best Feature Documentary during its official world premiere, Friday, October 20th, 2017 at the Carmel International Film Festival. This film portrays Logan as an artist who paints to overcome his challenges. He is self-employed in his business, Logan Madsen Fine Art.
Logan Madsen Art Exhibits
Logan has exhibited his art at Art Access Gallery in SLC, UT. His first show was a collection of stunning acrylic flower paintings. His most recent show is called Syndrome Psychology.
When I see somebody who looks different, I want to inspect them as much as I can. Clearly, it's not nice to stare, but WE ALL WANT TO. I painted my SYNDROME PSYCHOLOGY series so you can stare at my differences all you want. ~Logan Madsen
In his collection of hyper-realistic oil paintings, Logan explores himself and visually expresses what it is like to be Logan Madsen.
Who is Logan Madsen?
Painting and living with his dog, Charlie, makes Logan happy. Along with being a strong person, Logan is also insightful, brave and funny. He is charismatic, smart, and talented.
Logan cares deeply about people and animals. His passion for inner growth results in acute self-awareness and self-actualization.
I was denying that my disabilities exist most of my life because I want people to see the many aspects of who I am. ~Logan Madsen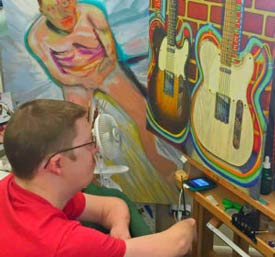 Logan loves to create things with his hands and mind. He often redesigns household items so they are more ergonomically useful with his physical limitations. Logan overcomes challenges caused by physical disabilities and pain every day.
Public Speaker
When Logan speaks publicly about accepting and overcoming challenges, he often mesmerizes his audience with insight and humor. Making a positive difference in people's lives brings him satisfaction and purpose.
Logan has spoken in a presentation to over 2000 medical students, and other University of Utah groups. He has spoken to caseworkers at Utah Department of Workforce Services and Utah Vocational Rehabilitation Services.
Logan has also spoken in local venues and to elementary school students. He enjoys speaking publicly and looks forward to more opportunities to share his story and insights.
Logan Madsen's Medical Background
Logan has a rare genetic disease called Miller's syndrome. There are less than 30 documented cases worldwide. This disease affects muscle and bone formation, organ placement, and causes hearing loss. Additionally, he has a genetic lung disease and Autism Spectrum Disorder (ASD). Logan has had over 25 surgeries and his sister, Heather, has the same syndromes and autism.
Logan Madsen's Family's Genetic Research Results
Scientists sequenced our family's entire DNA genomes in 2010. We are the first family worldwide to have sequencing done. This research resulted in scientists discovering that Miller Syndrome is a recessive gene. They also found a separate recessive gene causing Primary Ciliary Dyskinesia (PCD), which is the cause of Logan and Heather's lung condition.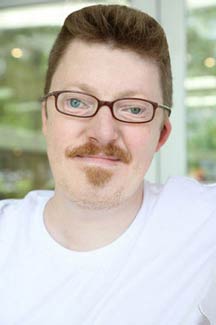 Logan lived 32 years wondering why he had Miller syndrome and a lung disease. Media reporters and scientists asked Logan how he feels to finally have answers in an interview.  Logan is excited to know he can have unaffected children when he has the opportunity and if he chooses. He likes knowing that he can do something that ordinary people can do, especially because there are so many things he can't do.
Logan is excited about taking part in research that is paving the way for others to gain answers for unknown conditions. He likes the feeling of helping other people and as he says, "putting his bookmark in making history."
Logan Madsen Fine Art Website
You can view Logan's art on his website www.loganmadsenfineart.com.
Visit his Facebook page where you can also view and buy originals, prints, and greetings cards made from photos of his art.
Today, I am learning to embrace my inequalities and accept reality. Yes, I am different, and this is becoming one of my strengths. ~Logan Madsen
Logan Birth to Age 35  Slideshow
Video: Logan's Flower Paintings
View Slide Show of Logan's Syndrome Psychology Art