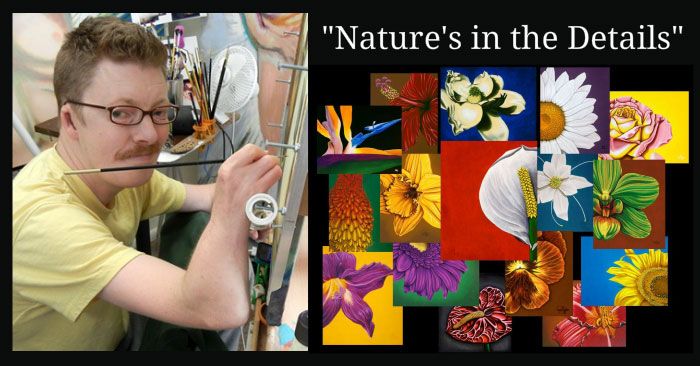 Are you inspired when you see really beautiful art? How about when the artist has significant disabilities? I love to feel inspired when I see people overcoming challenges through doing art or through another positive outlet. Logan Madsen is a talented artist who overcomes his challenges through painting. He also loves drawing, sculpture, and wood carving.
View Slide Show of Stunning Flower Paintings by Artist, Logan Madsen
Logan exhibited his detailed flower paintings at Art Access Gallery. Watch the slideshow of his stunning detailed flower paintings at the link below.
Logan called his exhibit, "Nature's in the Details," and this was Logan's first exhibit! Art Access Gallery, located in Salt Lake City Utah, hosted his exhibit.  His exhibition displayed acrylic paintings which show intricate details of a variety of flowers.
It is noteworthy to mention that all Logan's original paintings in this show sold, as well as various sizes of Kodak and giclee prints, and packages of greeting cards. People of different means had opportunities to purchase his art because he offered more than original art.
As a result, the gallery directors told Logan that the income generated from his exhibit resulted in the highest income ever incurred in one show by the gallery.
Art Access is a non-profit organization who also connects people by providing creative opportunities to explore our diversity through the visual, literary, and performing arts.
The video below is a slideshow of his flower paintings and also commissioned paintings of a pair guitars. Pictures of Logan also displayed his commissioned paintings detailing two collector guitars in this slideshow.
Video Slide Show of Stunning Detailed Flower Paintings By Logan Madsen
 Learn more about Logan and his art:
News Stories About Logan Madsen Overcoming Challenges Through Art
Logan Madsen Accepting and Overcoming Challenges Through Art: SLTribune News Story
View and purchase Logan Madsen flower paintings and other paintings, prints and greeting cards: