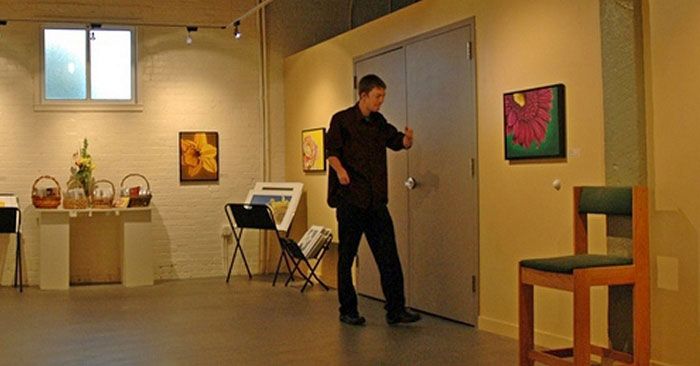 Are you inspired by stories of people with disabilities who are overcoming challenges to live their dream? I certainly am. Logan Madsen's story is one of these inspiring stories. He is unlike any other artist. Logan is a unique man who has multiple disabilities and autism, and who is also accepting and overcoming hardships to make a positive difference in the world.
Logan paints stunning, detailed art in spite of his disabilities, setting him apart from other great artists. He is one of only 30 people worldwide having the rare disease Miller syndrome.
We all face challenges and sometimes we struggle when going through them.
Hearing life stories about people who overcome their difficulties and who use their talents to make a positive difference in the world inspires us to overcome our challenges too. 
Autistic Disabled Man Accepting and Overcoming Challenges Through Art
Inspiring stories like Logan's are commonly seen in the news because we can benefit from watching, hearing and reading a positive story about the human condition.
Newspapers interviewed Logan for the first time in 2006 when announcing his first art exhibit titled, Natures' in the Detail. Art Access Gallery hosted his show. Logan's paintings are close-up views of the beautiful details seen in flowers. His show was a complete success with sales exceeding previous years in the history of the gallery!
Logan made Kodak and giclee prints, as well as, greeting cards from the paintings of his beautiful flowers so they are accessible to people having different incomes. These prints and cards are available on his website http://www.loganmadsenfineart.com/.
Salt Lake Tribune Features Logan's Exhibit, Natures' in the Detail
SLTribune "Disabled Artist Blooms with First Exhibit"
View Logan's Stunning, Detailed Flower Paintings and Guitars
Syndrome Psychology Art Exhibit
Local magazines, newspapers and television news stories featured Logan's second show called, Syndrome Psychology, also hosted by Art Access Gallery.
In this exhibit, Logan explored himself in paint.
Artist of Utah.org published this statement, "These alarming works allow, or rather, demand that the viewer stare at his body. They attempt to visually express what it is to be Logan Madsen — both physically and psychologically."  
We all have differences. Some of our differences are more visible. When we see someone who looks visibly different we often wonder what their story is, what life is like to be them, and how they overcome their challenges.
The following news interviews answer some of these questions.
Good4Utah: Logan Madsen Exhibit "Syndrome Psychology."
Artists of Utah Magazine Interviews Logan Madsen about Exhibit "Syndrome Psychology."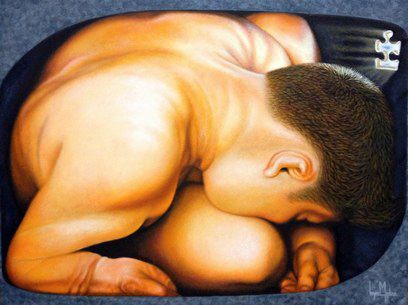 City Weekly and SLUG Magazine both featured Logan's painting "Window into Autism," in their story about his exhibit titled "Syndrome Psychology" Click on the links below to read the stories:
City Weekly Announce Art Exhibit "Syndrome Psychology" Art by Logan Madsen
What are the Odds? Local Artist Logan Madsen, SLUG Magazine
View Logan's Syndrome Psychology Paintings