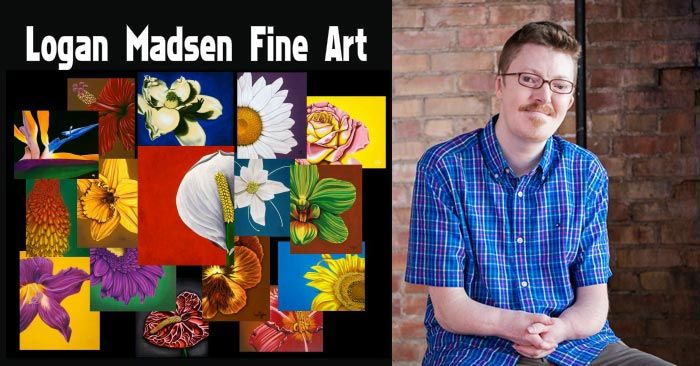 What interests do you engage in to help you overcome challenges? Do you use, social media, gardening, reading? I like to write, read and listen to the uplifting material. My son, Logan Madsen, paints. He is a disabled autistic man who is accepting and overcoming challenges through making art.
Logan lives to paint and inspire people through his paintings. He also speaks publically about overcoming challenges.
Disabled Autistic Man Accepting and Overcoming Challenges through His Art
Logan uses art to overcome his challenges from having multiple disabilities due to having two rare diseases and autism. These two conditions are called Miller syndrome, and primary ciliary dyskinesia, PCD, which is a lung disease.
Logan enjoys inspiring people to accept and overcome their challenges and encourages them to do positive activities they enjoy. He also enjoys sharing his story.
Logan showed his first art exhibit in 2006. Art Access gallery in Salt Lake City hosted his show. His show displays a collection of acrylic paintings and is called Nature's in the Details.
Logan's Flower Art, Paintings
Logan's exhibit includes 16 close-up paintings of flowers. He chose flowers because he appreciates flowers for their intricate beauty.
Logan painted these flowers in vivid acrylic colors and placed them off-center in the frame against a solid-color background which resulted in giving them a contemporary look. His sharp eye captured tiny patterns between the petals.
Logan said, "I try to enhance the details that people miss. My flowers look good from far away, but they look better close up."
Expressing himself through his paintings helps Logan overcome his daily challenges. His courage and perseverance inspire other people in overcoming their hardships as well as in using their talents.
Self-Employed Artist
The Federal and State Government supports individuals who have disabilities gain employment. As a result, Logan received help to start his own business. Logan is a self-employed artist, and he calls his business, Logan Madsen Fine Art.   Logan paints and markets his original paintings. He also sells prints, and greeting cards made from his paintings.
In addition to painting, Logan also has an AAS in Graphic Design/Multimedia which he completed in SLC, Utah.
KUTV News story about Logan Madsen and his art exhibit, Nature's in the Details.
KSL 5 News also reported a story about Logan Madsen and his exhibit, Nature's in the Details.
Logan's Syndrome Documentary
In addition to Logan's painting and exhibiting his art, Logan and his friend, Nathan Meier, a cinematographer, and director of films, followed their dreams and created a documentary about Logan's life. This movie documents Logan's life of overcoming his challenges through painting and also includes his family story.
Also on the team is the film producer of Logan's Syndrome documentary, Brian O'Hare, and producer/editor Azadeh Navai. Brian wrote a storyline of Logan's syndrome on IMBD.
Logan's Syndrome Storyline
"Logan Madsen is one in a billion. Literally. Despite possessing an incredibly rare genetic disorder called Miller Syndrome, a condition that affects fewer than thirty people in the world. Logan can create stunning, hyper-realistic paintings.
Beginning as a painter of pretty flower portraits, Logan's work evolved into an audacious series of pictures boldly depicting his disabilities.
After years longing simply to "blend in", Logan's dynamic paintings dare the world to not just look, but to stare. Logan's Syndrome takes us on a fascinating journey, as Logan-like a modern Don Quixote-challenges the windmills of his life: his disability, the break-up of his "perfect" Mormon family and his eternal search for romantic love.
But it's Logan's humor and courageousness that ultimately draw us into his world-as we experience what it's like to be Logan, shattering everything we think we know about disability, while reinforcing what it means to be human." Written by Brian O'Hare
"Logan's Syndrome" Documentary will show in 2017.  This film is made possible by donations made through a Kickstarter program. In addition to this, individuals donated personal funds.
Good4utah interviewed Logan, Heather, and me about his exhibit "Syndrome Psychology" and also about his Kickstarter campaign.
 Below is a recording of the interview: