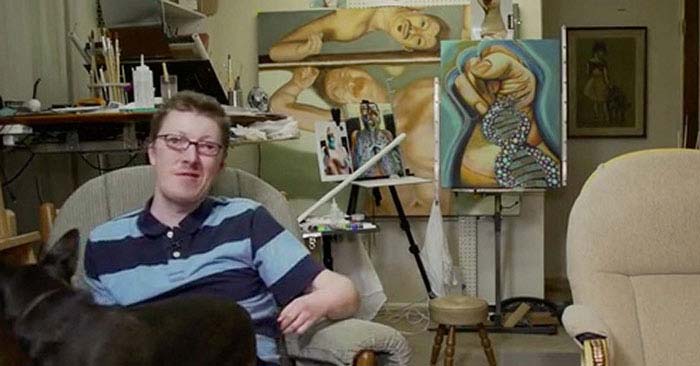 How do you overcome life's challenges? Sometimes, overcoming hardships is hard, isn't it? We all overcome obstacles in different ways. Getting a close look into someone's life who's overcoming multiple disabilities can help you while you're overcoming yours. Documentaries give us this opportunity.
Logan Madsen was born with Miller syndrome, a rare genetically caused disease that causes visible disabilities due to deformed muscle and bone formation. Miller syndrome also affects organ location, causes hearing impairment, and other disabilities.
Logan also has a genetic lung disease. In addition to this, he has high-functioning autism. Logan can overcome life's challenges through turning his feelings and thoughts into paintings. Finally, Logan now has a documentary called, Logan's Syndrome.
Learn to Overcome Life's Challenges from Documentary of Rare Man
In 2006, Logan had his first art exhibit in Salt Lake City. During this time, Logan shared his ideas for his next show he would call, Syndrome Psychology, with his friend from high-school, Nathan Meier, a documentarian.
Together, they formed their dream about making a documentary about Logan's life which shows how he is overcoming his challenges through art. They started a Kickstarter campaign to raise money to turn their dream into a reality.
A few months later they had raised the money to begin their project, making a documentary called, Logan's Syndrome.
About Logan's Syndrome
This story amplifies the human condition and how one can overcome challenges.
This film is an intimate portrait about Logan Madsen and captures what it is like to be Logan, a talented artist living in a physically disabled body.  Logan's Syndrome allows you to see in first-person how in spite of daunting physical limitations and pain, Logan can create hyper-realistic paintings.
Through his art, Logan can articulate what it is like being born different.
Logan's Syndrome's world premier is Oct. 20, 2017, at the Carmel International Arts Festival in California. See the trailer below!
Only 30 People Worldwide with Miller syndrome
Logan's sister, Heather,  is a writer and also has Miller syndrome. Furthermore, they are two of only 30 people worldwide having this rare syndrome.
Logan's Syndrome Documentary in the News
You can gain inspiration to overcome life's challenges and believe in your dreams when you see another person making their dream a reality, especially when they overcome hardships to succeed.
Good4Utah, a Salt Lake City news program, interviewed Logan about the making of Logan's Syndrome documentary. Good4Utah News Interview with Logan about Documentary
Rare Daily is an online news site where a non-profit organization called, Global Genes, promotes the needs of the rare disease community. Global Genes is also one of the leading rare disease patient advocacy organizations in the world.
Their group is excited to hear about Logan's upcoming documentary called, Logan's Syndrome. To inform their community about the film, they published an interesting and personable article about the project. Global Genes: Logan's Syndrome Documentary, Kickstarter Successfully Funded
Carmel International Film Festival Premiering Logan's Syndrome
Logan's Syndrome is scheduled to premiere at the Carmel International Film Festival  Oct 20, 2017. Learn more about this event. Carmel International Film Festival 
Watch LOGAN'S SYNDROME Documentary Trailer!

Visit Logan's Website https://www.loganmadsenfineart.com/