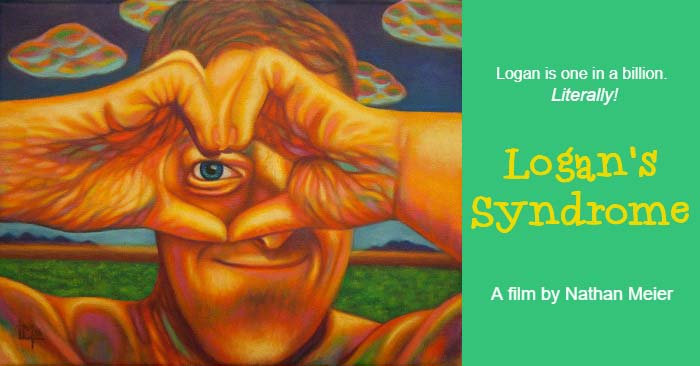 Logan's Syndrome won the best documentary award at the Carmel Film Festival. This film is a feature-length movie that gives people hope and shows the strength of the human spirit! The storyline follows the unique artist, Logan Madsen.  You witness Logan using his art to overcome his health challenges, inspiring other people as he lives his life.
Logan creates hyper-realistic, autobiographical paintings in spite of daunting physical limitations. He paints to express his experiences with having an incredibly rare and debilitating genetic disease, as well as to open dialogues about the human condition.
Buy a DVD, and Rent or Purchase to Stream
Logan's Syndrome is available for purchase in DVD or you can Rent or Purchase to STREAM at Amazon, and most major venues. I've provided several links for your convenience below.
Watch LOGAN'S SYNDROME's Synopsis
Logan and his older sister, Heather, were born with Miller Syndrome, an extremely rare genetic condition that affects approximately thirty people in the world. They also have a rare genetic lung disease and autism.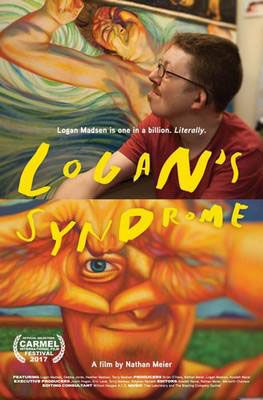 Told through the lens of Logan's childhood friend and filmmaker, Nathan Meier, the film is an intimate collaborative effort. Their mutual trust makes for a frank and honest portrait.
The film had it's first world premiere, at the Carmel International Film Festival on Friday, Oct. 20, 2017, where it won best feature documentary.
Syndrome  Psychology Exhibit
The viewer of the film is invited into Logan's daily existence as he completes his art series, Syndrome Psychology. Through his exploration of himself, Logan takes you into his past and then brings you back to his present life.
In addition, this film shows that although our family's lives have been full of challenges, we overcome them. Logan and Heather have each endured over 20 surgeries. and the ever-present stares from others. Logan overcomes constant pain.
When my children were quite young, their father left us, so I filed for a divorce. As a result, I raised them on my own. Determined to create a good life for my children, I saw them through many trying times.
 First Whole Genome Sequenced Family, Ever
Years later, by total chance, I met and married a brilliant geneticist, Dr. Lynn Jorde. This remarkable circumstance led to our family making medical history when we became the first family worldwide to have our entire genome sequenced.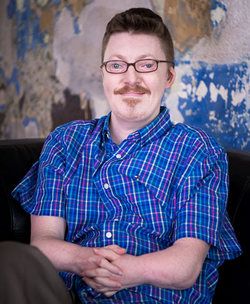 Geneticists were finally able to identify the genes responsible for causing  Miller Syndrome, and for Heather and Logan's lung disease, and most importantly, provided answers to questions we had for over thirty years.
Logan's Syndrome documentary can inspire the viewer to use their own talents to help persevere through challenges and overcome them.
Logan sees his film as his legacy. He hopes that sharing his story will help enlighten and inspire others to overcome their own challenges, to better understand what life is like with disabilities, and realize how we are all more alike than different.
Watch LOGAN'S SYNDROME Documentary Trailer!
LOGAN'S SYNDROME is available for streaming on at the venues below:
Logan Madsen Interviewed on KUTV News
Good4Utah News Video: "Artist, Logan Madsen Making Documentary About the Rare Miller Syndrome"