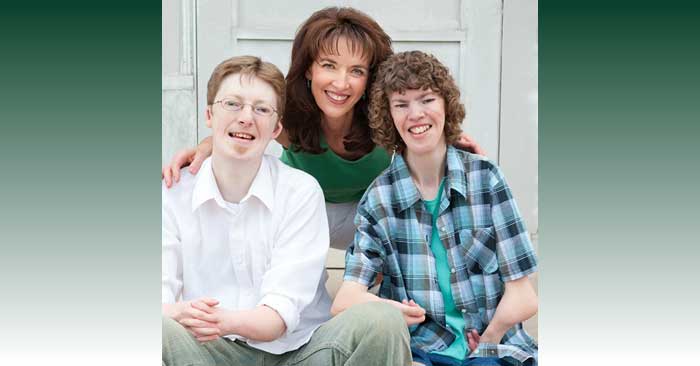 Genetic research is advancing at record speed. Learn how you or someone you know can gain benefits from genetic studies. Geneticists asked a family of four to be part of a groundbreaking research. Watch the family's interview about the study's surprising results below.
The family I am referring to above is my family. My daughter and son, Heather and Logan Madsen, were both born with two rare diseases and we didn't know why. This made us an attractive study for human geneticists.
Geneticists called and asked us to take part in a project that would involve having each of my family members entire genome sequenced. Excited about the possibility of learning answers to 33 years of unanswered questions I said, "Yes." I immediately called Heather and Logan to ask them if they also wanted to participate in the study. I received two enthusiastic responses of, "Yes!"
Their father, Terry, said yes too, so the project was a go!  As the time passed, I wondered if the scientists would be able to find the genes that caused Heather and Logan's rare disease, Miller Syndrome, as well as a lung disease.
I tried not to get my hopes up because I didn't think that knowing the cause of Miller Syndrome would affect our immediate lives in a big way, but I was curious. I knew I would be disappointed if they didn't find the gene.
Learn How Gene Sequencing Changed the Lives of the First Family Ever Sequenced
Heather was already 33 years old when this project began, and this was a long time to live without answers. In the past, we had participated in a few studies. However, they didn't result in bringing us answers. We hoped this research would be successful!
We had no idea that we would become the first family ever to have our whole genome sequenced.
Groundbreaking Research Brings Answers
After waiting many months, the scientists asked us to come together in an office at the University of Utah to do a group Skype call with all the researchers on the project. They were going to inform Heather, Logan and me of their findings.
The big moment came, and a doctor told us that they found the gene responsible for causing Miller Syndrome. I couldn't believe it! My eyes immediately filled with tears. They were tears of happiness! I had no idea that knowing why my kids had this disease would bring me so much joy!
Heather and Logan were happy excited too! The doctors also gave us more good news!
Gene Causing Lung Disease Found
To our amazement, the doctor told us they also found the gene responsible for causing Heather and Logan's lung disease, which now had a name, primary ciliary dyskinesia, PCD. Amazing! We could hardly believe this news! We were incredibly happy!
I was the relieved knowing why my children had these two conditions, and most thrilled because now they know. Along with being happy, we felt great peace from finally having answers. We didn't realize how difficult it was living so long without answers.
Feelings of Belonging
Heather was happiest knowing why she had a lung disease that threatens her life. She also said she had never felt like she belonged to humankind because there were so many unanswered questions about what caused her challenges.
After receiving answers, she said,
Knowing that Miller syndrome and PCD are part of Mother Nature's working things out, I feel like I belong to a community larger than humankind. Genetic research gave me my community, my sense of belonging and peace of mind. ~Heather Madsen
Capable of  Having Healthy Children
Logan was the happiest knowing he could have healthy children if he wanted to. This news was huge for him! He had always tried to do many activities that the average person can do and always fell short.
You can get answers for health issues by having DNA sequencing. I found out my children won't have Miller syndrome,
Finally, he could do something that most other people could do. Knowing this makes a positive difference in his life.
Groundbreaking Research Brings Hope to Other People
We became the first family in the world to have their entire genome sequenced, and most importantly, we took part in research that will help others find answers.
We are all happy to know that our contribution to this project will make a positive difference in other family's lives. It's wonderful for me to see Heather and Logan able to contribute something so important. They are the first people ever to make this important bookmark in history!
It's important for us to have purpose and meaning in our lives. Making a positive difference in the world makes overcoming the challenges we face every day, a little bit easier.
Learn How Gene Sequencing Changed the Lives of the First Family, Ever Sequenced
Being the first family worldwide to have our entire genome sequenced is very exciting! We have spoken to several groups about our experiences. Below is a video of one such talk. We hope you enjoy watching!
Video: Interview with our family discussing how we feel about becoming the first family worldwide to have our entire genome sequenced and about finally getting answers to our 33-year-old old questions.
Learn more.
Historical Genetic Discovery Brings Hope: First Family Ever Having All DNA Sequenced
Recommended reading.
What is whole genome sequencing?