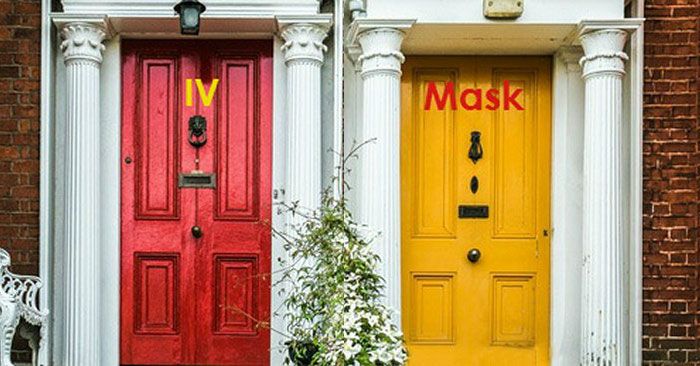 Inspirational Prose: The IV or the Mask?
The IV or the mask — the choice became critical in my teen years after having been exposed to the mask used for anesthesia so many times in the past.  It didn't matter what flavor I chose to inhale as my body fought with the poison that entered my mouth and nostrils and always lost.  Though I could not smell the flavors, the hideous onslaught of gas that invaded my face would make me gag.  My saliva would imitate the repelling flavor and I'd purposely drool to get it out of my mouth until the drooling took on its own life as I drifted off to unconsciousness.  It helped that the doctor would talk soothingly as he pressed the tear shaped mask on to my face, making sure I got it all.  I felt vulnerable and helpless to erupting emotions I couldn't dissipate.
Fear rippled inside me while I was lying down on the hard, sterile surface.  Mixed with a terrible repulsion of the gas mask, the experience would leave a psychological stain in my memory each time I went under.  At home or at school, when I was reminded of the feeling of the gas going into my face, the loud beeping of the machines as it pumped the gas, and the deadening of my body, I would physically shudder and sneeze.  The horrible taste would appear in my mouth and I would have to get rid of the saliva by reluctantly swallowing it and quickly get a drink of water to wash out the taste and the memory.  Eventually, this experience and the thought of having to go through it again consciously in my teen years were too much for me.  I would choose the IV.
Unlike the suffocating mask that played with my brain, the IV was a snake that pinched and bit my flesh as if it was ravenously hungry. The nurse often had to take a long time finding a vein.  Each tap of the fingers increased my anxiety and my heartbeat would pound heavier inside my skinny body, but I dared not look away for fear of the snake pouncing without my being ready.  As she found a vein to attempt, I gathered my emotions and tried to make them into a shield, but they always fell apart when the needle stung. Sometimes the nurse had to try five to eight times to find a vein.  The crusted over holes were evidence of my tears.  If she missed, the needle would scrape inside my flesh, biting the nerves and causing bruises, which became colorful rainbows signifying battle wounds that ran much deeper than my skin.  Each time that I go back to the hospital for surgery, I must choose — IV or the mask.