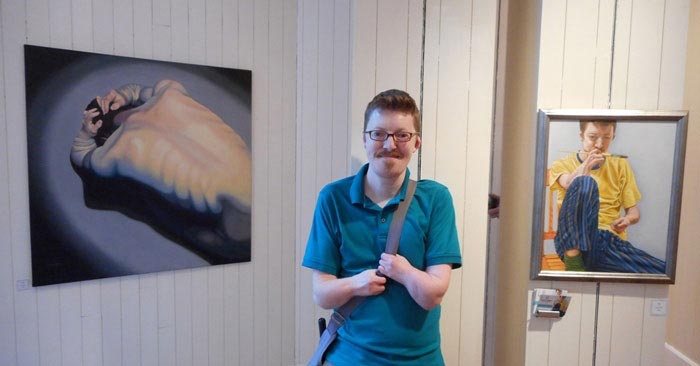 Can you imagine if you were one person of only thirty people in the world that looked the way you do? It's hard to imagine, isn't it? Logan Madsen is that person. Also, he is an artist exemplifying overcoming challenges through painting.
Like his sister, Heather, and only 28 other people worldwide, Logan has the extremely rare condition, Miller syndrome, which affects muscle and bone formation, resulting in short forearms, three bent fingers, and a thumb, and no wrist rotation, along with many other challenges. This condition also causes hearing loss.
Logan also overcomes challenges from having a rare lung disease called, primary ciliary dyskinesia, PCD, and autism.
In addition to being rare for having Miller syndrome, Logan's is also unique because he paints amazing art in spite of his disabilities. Logan shows people how to accept and overcome challenges through his paintings.
Be inspired to use your talents to overcome your challenges. Read the Article which shows Logan overcoming challenges by volunteering for his art community, Connect. He is Connect's event photographer. Logan also won the 1st place prize for his painting, Grab.
Rare Artist Exemplifying Overcoming Challenges Wins 1st Place Art Prize
Logan won first place in an art contest hosted by, Connect, a community program for artists. Utah Art Alliance, UAA, sponsors Connect. UAA's goal is to "foster the arts in all forms to create an empowered, aware and connected community. "
Logan enjoys attending Connect activities at the Urban Art Gallery in the Gateway mall, in SLC UT. As a result, he meets other talented artists and participates in monthly art contests.
December Connect Gala 2013 celebrated the art of Salt Lake artists. Both the attendee's votes that night, plus a year-long peer review vote, selected Logan as the 1st place winner for his painting, Grab, which is shown in the picture below.
Logan, along with two other artists received $2,000.00 in grant money from Utah Arts Alliance. Also, Connect gave honorable mention to other artists who participated.
Connect Provides a Place for All Visual Artists to Share their Genius
The 2nd Friday of every month at the Urban Arts Gallery, Connect invites emerging artists to bring up to two pieces of their work for the event. Artists and the general public in attendance vote for their favorites. As a result, five winners showcase at the gallery until their next Connect.
Connect Helps Artists Find Opportunities.
The Connect team looks for professional arts opportunities in Salt Lake City. As a result, they bring these possibilities to their Connect events to meet the needs of the artists. Most of all, Connect assists artists in focusing on their creativity and accomplishing their dreams.