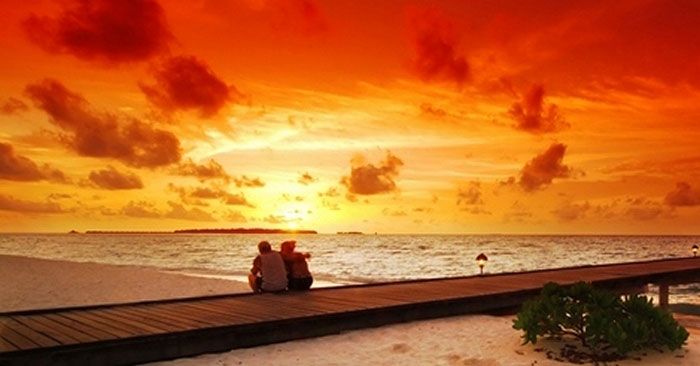 Inspirational Poem: The Last Moment
I stand beside you on the edge of the beach.
Hand in hand, fingers locked in love,
we watch the sea move calmly toward our toes
and splash over our feet
making us shiver from the slight breeze.
I feel the warmth surging from your hand
into my heart making me ache with sadness.
I see the sun set separately from you
as the shades of red and pink highlight the night sky,
knowing that I shall no longer be with you when
this night ends.
The thought makes me squeeze your hand tighter
while I turn my head and look into your loving eyes
one last time,
for they are the bridges that hold me up when I fall.
They are the everlasting suns that will shine in my heart
when you are gone.
The breeze grows colder as the night descends upon us,
forcing us to wrap our arms around each other
for warmth and comfort in our last moment together.
I sense our time spent together is growing shorter
when we step back from the tide to take a better look
at the moon. I will forget nothing when tonight disappears.
Running my hands through your hair,
with your head in my lap, I feel the love once again
as we sit and stare into the infinity of the stars
which sparkle in the blackness.
I wish this night would never end.
I kiss you gently one last time and hope
for the moment to freeze, stealing time for eternity
so I would not have to see you leave.
I am aware of the ticking of a clock
when a bird cries out, forcing me into reality
once again only to remember I am in your embrace
for the last time.
I take hold of your hands when the wind grows stronger,
hoping we will not part, but even in that instant I
watch you change before my eyes and
become lighter with each breeze.
I squeeze your hands tighter against my belief
of what is happening, but feel your hands slipping
like sand falling through my fingers.
Tears slide down my reddened cheeks.
I already miss you even as you are leaving.
I barely restrain myself from collapsing on the beach
when I hear your last words echoing in the wind:
"I love you always…"