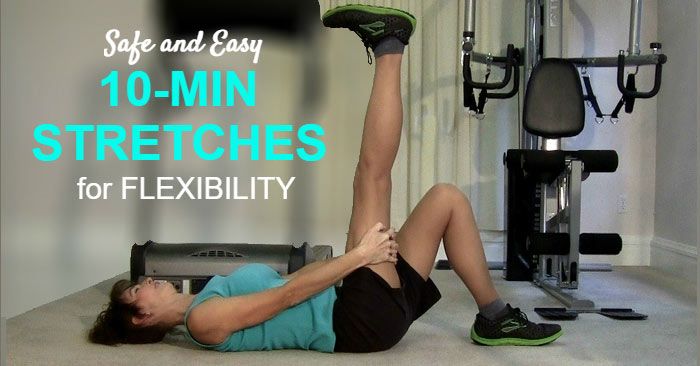 Do you have lower back pain? If so, I'm sure you would like some relief. By doing back stretches regularly, my symptoms vanished after experiencing chronic lower back pain a good part of my life. These stretching exercises only take 10 minutes.
I have over 30 years experience as an AFAA certified instructor teaching low-impact aerobics, muscle strength training, and stretching. I recorded this short video for people who are looking for some quick back stretches they can do at home.
These exercises are safe for people of all ages, including seniors.**  Also, people who have chronic conditions, such as MS will benefit from doing these exercises.** 
Best Stretching Exercise Video You Can Do at Home Quickly
You will experience many positive results from stretching regularly. The stretches in this video are basic stretches and focus on flexibility.
Benefits Received from Stretching and How to Stretch Safely
Knowing why you are doing certain exercises helps motivate you to keep doing them on a regular basis. Consistent exercise creates the results you want.
Benefits Received from Stretching
Improve Flexibility and Increase your Range of Motion
Improve Performance in Physical Activities
Decrease Injuries
Stretching Improves Flexibility and Increases Range of Motion
Stretching can help improve flexibility, increasing the range of motion in your joints.  Increased mobility allows your joints to move through their full range of motion and your muscles to work most efficiently.
Improve Performance in Physical Activities
Flexible, efficient working muscles can enhance your performance in physical activities of all kinds.
Decrease Injuries
Along with the benefits listed above, stretching increases blood flow to the muscles. All these benefits result in lowering your risk of being injured when you are physically active.
Before you plunge into stretching, make sure you stretch safely and efficiently.  While you can stretch anytime, anywhere — in your home, at work, in a hotel room or at the park — you want to be sure to use proper technique.  Stretching incorrectly can do more harm than good.
Tips to Keep Stretching Safe
Warm-up your muscles
Stretch without bouncing
Breathe as you stretch
Stretch regularly
Warm up your muscles
Before stretching, warm up your muscles with light walking, jogging or biking at low intensity for 5 to 10 minutes. Or, if you prefer, you can also stretch after you exercise while your muscles are still warm. You don't want to stretch cold muscles. (So far, studies haven't shown a benefit for stretching before exercise. However, if you prefer to warm up before your exercise, it's ok if you warm your muscles first.)
Stretch Without Bouncing
Stretch in a smooth movement, without bouncing. Bouncing as you stretch can cause injury to your muscle. Breathe normally as you stretch. Expect to feel tension while you're stretching, not pain.
Stretch Regularly
Keep up with your stretching. Stretching can be time-consuming. But you can achieve the most benefits by stretching regularly, at least two to three times a week. I like to stretch in the evening while I'm watching TV.
Best Stretching Exercise Video You Can Do at Home Quickly
10 Minutes of Stretching Major Muscle Groups for Added Flexibility
*If you have a chronic condition or an injury, you may need to adjust your stretching techniques. For example, if you already have a strained muscle, stretching it may cause further harm. Ask your doctor about the most appropriate way to stretch if you have health concerns.****
**Remember to talk to your doctor before starting any new exercise program. 
***After experiencing unusual symptoms for 15 years, my doctors diagnosed me with MS in 2009. I'm confident that doing these exercises on a regular basis is how I've stayed physically active and avoided injuries.
****Before using Debbie Jorde's exercise videos you agree to talk with your doctor and you agree to release Debbie Jorde of all liability should you get injured while using her videos.
---
Additional Exercise Classes for Exercising at Home with Debbie
For detailed information about low-impact aerobics and the benefits of cardiovascular exercises see Best Introductory Low-Impact Aerobics Exercise Video You Can Do at Home.  As the title states, the exercises in this video introduce you to basic, easier aerobic moves that use slow-paced music.
---
6-min abs and 1-min lower back:
Quick Home Exercises Video for Abs and Lower Back Strengthening
---
5-min upper body weights and 3-min stretching:
Quick Home Exercises Video for Toning and Stretching
---
1-hr low-impact aerobics, introduction, slower music:
Best Introductory Low-Impact Aerobics Exercise Video You Can Do at Home 
---
1-hr low-impact aerobics, medium level, faster music:
Best Low-Impact Aerobics Exercise Video Medium Level for Safe Home Use
---
Enjoy an additional low impact cardio class which includes light hand-weights of under 5 lbs, held in your hands during a small portion of the class while performing the aerobic moves.
14-min cardio with light hand weights:
 Best Low-Impact Aerobics w Arm Toning Exercise Video for Safe Home Use
---
Recommended Reading: