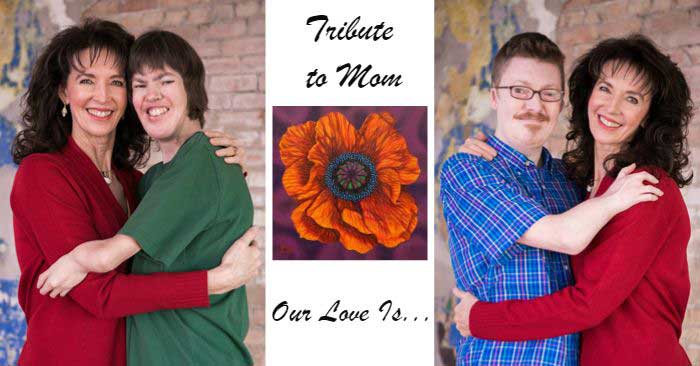 A Poem Filled with Memories As A Tribute for Mom on Mother's Day
Mother's Day is a special day. It's a time when you want to tell your mom, "Thank you!" and "I love you!" Often, you want to do something to surprise her, some personal gesture that will pay a meaningful tribute to her. You want to do something she will always remember.
My brother, Logan, and I wanted to create something special for our mom, for Mother's Day in 2015. We focused on using our talents. I decided to write a poem about how much we love our mom, how special she is, and how amazing she made our childhoods. Logan wanted to paint her a poppy flower, which was a painting our mom requested in 2005 and was patiently waiting for. Logan could finally paint it!
After I completed the poem and he finished the painting, we got together and decided on the best layout, matte color, and frame choices. We were so excited!
The day finally came to surprise our mom. She had no idea. We presented the gift to her. She was so blown away, she had tears in her eyes as she took in the beautiful poppy and poem! My mom is my hero and inspiration! We're presenting her this precious gift again in my blog for Mother's Day 2018!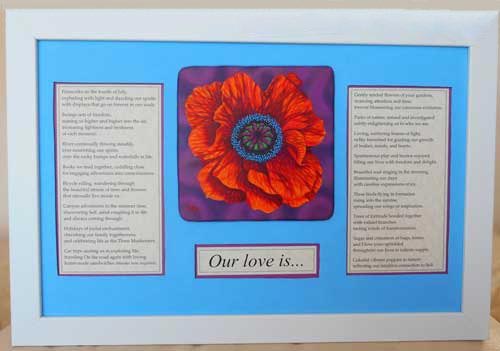 Inspirational Prose: Our Love Is
Our love is…
Fireworks on the fourth of July,
exploding with light and dazzling our spirits
with displays that go on forever in our souls.
Swings sets of freedom,
soaring us higher and higher into the air,
increasing lightness and freshness
of each moment.
River continually flowing steadily,
ever nourishing our spirits
over the rocky bumps and waterfalls in life.
Books we read together, cuddling close
for engaging adventures into consciousness.
Bicycle riding, wandering through
the beautiful streets of trees and flowers
that eternally live inside us.
Our love is…
Canyon adventures in the summer time,
discovering Self, amid roughing it in life
and always coming through.
Holidays of joyful enchantment,
cherishing our family togetherness
and celebrating life as the Three Musketeers.
Car trips uniting us in exploring life,
traveling On the road again with loving
home-made sandwiches (blender now required).
Gently tended flowers of your gardens,
receiving attention and time,
forever blossoming our conscious evolution.
Our love is…
Parks of nature, sensed and investigated
subtly enlightening us to who we are.
Loving, nurturing homes of light,
richly furnished for guiding our growth
of bodies, minds, and hearts.
Spontaneous play and humor enjoyed,
filling our lives with freedom and delight.
Beautiful soul singing in the morning,
illuminating our days
with carefree expressions of joy.
Our love is…
Three birds flying in formation
rising into the sunrise,
spreading our wings of inspiration.
Trees of fortitude bonded together
with valiant branches
tasting winds of transformation.
Sugar and cinnamon of hugs, kisses,
and I love yous sprinkled
throughout our lives in infinite supply.
Colorful vibrant poppies in nature
reflecting our intuitive connection to Self.
Learn more about me here
Credit: The Poppy painting in the heading picture is by Logan Madsen.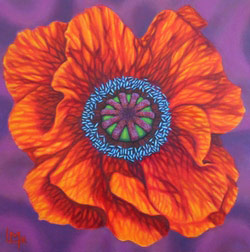 To view other paintings of Logan's see his website: www.loganmadsenfineart.com
Read more of Heather's Inspiring Prose and Poetry