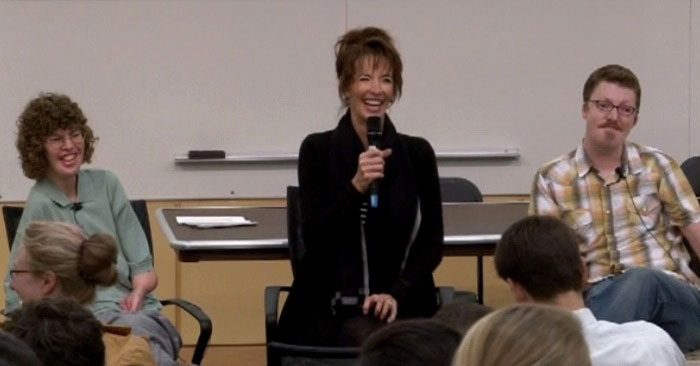 Have you ever wanted to ask a person who is overcoming challenges from disabilities or other severe problems how they do it? I have. When I listen to talks given and read blogs written by people who overcome difficult challenges, especially disabilities, I feel inspired. For this reason, my daughter, son, and I give talks about overcoming our challenges to inspire others.
Heather and Logan both have the rare disease Miller syndrome, a rare lung disease, and autism. I raised them by myself, as well as overcame divorce, poverty, and bulimia. In addition to these challenges, I'm currently overcoming daily challenges from having MS.
We've spoken to over 2500 medical students and over 300 Dept. of Workforce Service caseworkers, and Vocational Rehabilitation caseworkers about overcoming our challenges. I record our talks as well as the Q and A session after our talk. I've included three of the Q and A sessions below.
We answer questions about overcoming challenges, and just about everything else. Our audience asks great questions, as well as learns from our answers. People tell us that our answers inspire them to overcome their difficulties.
Experts in Overcoming Challenges
As you can imagine, because we face many challenges the three of us are now experts in overcoming hardships. For this reason, we enjoy speaking publically about accepting and overcoming challenges and answering peoples questions.
As you can see in the photo above, we have great fun answering the different questions we get asked!
Each audience asks a variety of questions. We never know what questions people will ask us and we tell them that no question is too personal.  It's human nature to be curious. So far we have answered every question people in our audiences have asked us.

Learn to Overcome Life Challenges from Inspiring Family
In the video below you will hear answers about overcoming challenges in a Q&A session where caseworkers from the Utah Rehabilitation Association conference in 2015 asked us some good questions.
In the video below we give answers about overcoming challenges in the Q&A session asked after a talk we gave to 100 first-year medical students in their Human Genetics Course at the University of Utah.
Each year the medical students ask different questions. Below is a new set of Q and A.
Learn more.
How to Accept and Overcome Challenges 2 Easy Ways
3 Great Ways to Accept and Overcome Challenges