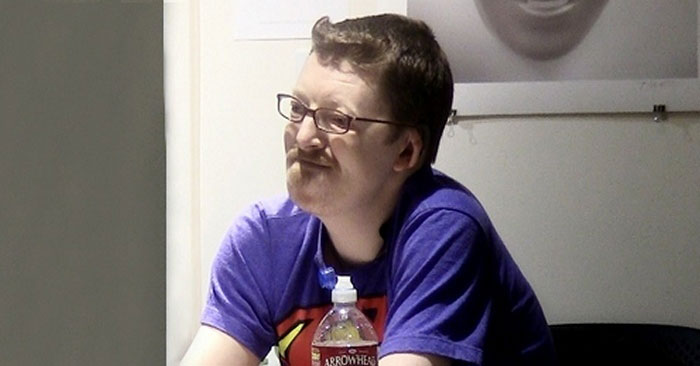 Have you ever felt like a freak? How do you feel about hearing that word? When I googled the question, "Do you feel like a freak?" I was surprised to find out that a lot of people struggle because their answer is, "yes." Have you wondered what people who have visible disabilities think about hearing the word freak?  I have.
My son, Logan Madsen, has a rare disease called Miller syndrome, which causes visible disabilities and autism. He answers the question, "What is the meaning of the word freak to an autistic, disabled man?" in the video below.
Logan also discusses other interesting topics surrounding thoughts and feelings about looking different, the question, "What is normal," and politically correct agendas.
In connection with an art exhibit, Art Access Gallery hosted a panel discussion titled, Differences, A Dialogue. Artists and writers who have visible disabilities were on the panel.
Originally, the organizers wanted to use the name, Freak Show. People communicated so much discomfort with using the word freak that the organizers didn't feel comfortable with that name.
What is the Meaning of the Word Freak to Logan?
Because Logan is both autistic, and disabled, he had a relevant opinion about the name he wanted to use for the exhibit and discussion. He wanted to call it, Freak Show,  But in the end, the organizers decided against it.
Logan enjoyed being on the panel and answering many questions surrounding the use of the word freak and other topics. His opinions are interesting and enlightening, especially because he is autistic and disabled and someone you could imagine would be offended by the word freak.
A lively, mind opening discussion about differences, identity, perspective, and power took place at Art Access that night. The videos below include questions asked by a moderator surrounding words used to describe people with disabilities. Other interesting topics are also discussed.
Logan added many insights to the conversation. In these videos, he answers the questions with openness and honesty. Hearing the thoughts opinions from a person who is both autistic and disabled can help lead to better understanding of people who have these kinds of challenges.
Also, when you have a personal experience with someone facing and overcoming disabling hardships you gain new perspectives that help bridge the gap between diverse peoples.
Gain new perspectives, ponder new thoughts as you watch videos with Logan Madsen, who is autistic and disabled, discussing using the word "freak."
A new TV program called "Freak Show" with Logan Madsen, who is autistic and disabled.
 Why Are People Afraid of the word freak? with Logan Madsen
What is Normal? with Logan Madsen
Peoples Discomfort with Differences, with Logan Madsen
 Audience Q and A, with Logan Madsen
Learn more about Logan as he paints to overcome his challenges.
KSL TV News: Disabled Autistic Man Accepting and Overcoming Challenges through Art
SLTribune News: Autistic Disabled Man Accepting and Overcoming Challenges through Art
Visit Logan's Website https://www.loganmadsenfineart.com/