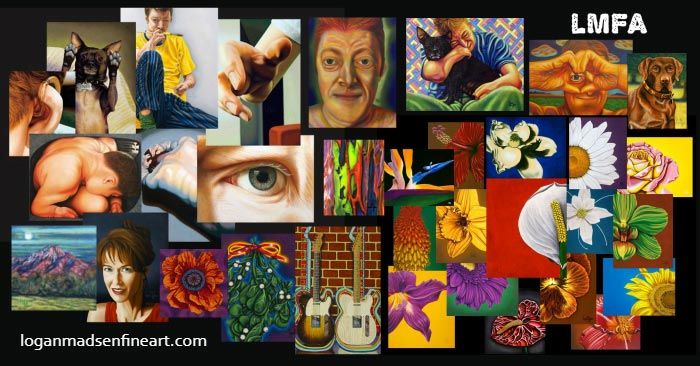 Artist Logan Madsen, the subject of LOGAN'S SYNDROME, an award-winning documentary, is one in a billion. Not only because he's only one of only 30 people worldwide with Miller syndrome, but because he's a great artist. People are talking about his art all over the world! Now, Logan has achieved a new milestone. Logan has an online store where you can buy his art. Logan Madsen Fine Art Shop.
Logan Madsen Fine Art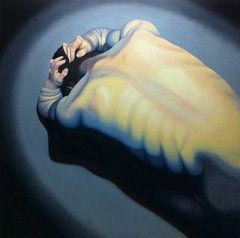 While visiting Logan's store, you can view and buy bold, detailed self-portraits from his SYNDROME PSYCHOLOGY Series. Viewing these paintings can transform perceptions, increase compassion, and expand realities. They invite viewers to stare (we all want to) at his physical differences caused by Miller syndrome. Logan's self-portraits also show visual images of the human condition; emotions and mental states that most of us have felt at one time or another. Through his art, Logan shows all of us that we are more alike than different. Who hasn't felt "helpless" at one time or another?
You can also, view and buy flowers painted with vibrant colors in exquisite detail from his NATURE'S IN THE DETAILS series. Purchase blank, high-quality, greeting cards made from his flower paintings.
Logan's Dream to Make a Positive Difference in his Community
Logan's dream is to use the income generated from the sales of his art to create an art gallery/studio/community center where people can come share physical and mental health issues with others who understand and care, and if they wish, create art together as they talk, while also sharing his message of inclusive self-awareness.
He also intends to continue making a positive difference by painting new series that will bring people joy and inspiration every time they see a painting in their home, business, or online. Currently, he's working on his PARK SERIES. which is inspired through walking his dog, Charlie, in a park in Holladay, Utah, his hometown.
Logan Madsen Fine Art is In The News!
The Salt Lake City local newspaper and news stations wrote about and showed stories about Logan's exhibit titled, NATURE'S IN THE DETAILS. This series is a collection of seventeen flowers. Logan has added more flowers to this collection! Who doesn't love beautiful, colorful flowers! All his paintings sold! Hundreds of prints sold! Here's the story
Logan Wins a Prize for His Art!
Logan won first place in an art contest hosted by, Connect, a community program for artists. Utah Art Alliance, UAA, sponsors Connect. UAA's goal is to "foster the arts in all forms to create an empowered, aware and connected community. "
Logan enjoys attending Connect activities at the Urban Art Gallery in the Gateway mall, in SLC UT. As a result, he meets other talented artists and participates in monthly art contests. Read more
Thank you for visiting Logan Madsen Fine Art Store! We appreciate your support!